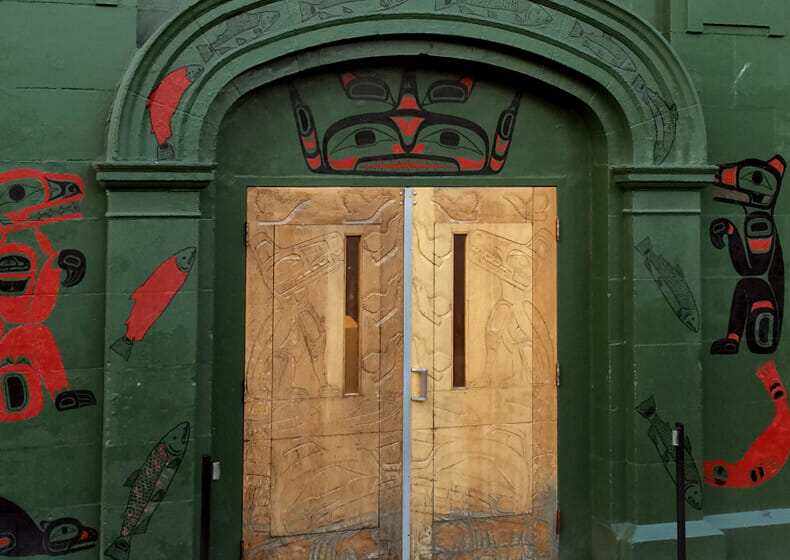 A Visit To Macdonald Elementary School
There is a huge eagle carved over top of the immense wooden doors at the Macdonald Elementary main entrance. We are always so interested in the diversity of the schools we visit.  This was after school care program visit # 3 this fall;  with just one left to go.  CWC has funded portions of the after school care programs at 4 inner city schools this year; because, simply, single moms who want to work and struggle with poverty need care for their kids.  Which allows them to work.  Knowing their kids are safe.   So in our minds this is a concrete obvious basic need and due to our generous compassionate donors who share our vision, kids are able to participate in after school programs.   So we've been peeking in at the kids; trying to discretely check out what's they're up to  –luckily the staff (and kids!) always welcome us with open arms.  On this visit, we were even offered freshly made sushi – hand rolled by the kids themselves.  Something new the kids had learned to make that day for snack. 
This school has an interesting history – and is currently undergoing transformation.  Built in 1906 and named after a tobacco tycoon, the school has recently decided to re-name – and now lays claim as the first Aboriginal Focus School in the lower mainland, new name to be announced. The cultural and historical significance of this is big; it is reflected in the curriculum, activities, and classroom learning models.  Circle time on a traditional aboriginal mat, smudging ceremonies with items made by the kids, alphabet pictures reflecting aboriginal focused words for each letter- and a super cool "quiet time" tent in a tucked away spot designed as a tee-pee.   For the after school program, 20 kids gather in the small yet cozy room, at 3pm.  They begin with a Welcome Meeting to say hello, touch base, and choose the day's activity.  They spend 90 minutes on the activity (inside and outside), followed by snack/homework, reading and quiet time before being picked up by family (often grandparents) by 5:30-6:00pm.
We see first-hand how extremely important  the right staff is to the kids.  Kids experiencing poverty and potentially tricky situations out of school truly need the security and consistency of safe, welcoming and kind adults, with smiles and positive demeanors.  Karen, the programmer, had a constant smile on her face, sincerely happy to be surrounded by the kids – who felt at ease and settled in her presence and the space.  Jon, the principal, is extremely passionate about this school, its culture and each and every child in attendance – he strives to teach the kids that the principals they learn in school also apply out in the real world, and he is in his own words "so very proud of what we have here". 
His words of wisdom to his staff about the best thing for the students:  "Wake up happy, be consistent, and provide safe haven".  Words for us all, indeed.  Great visit.