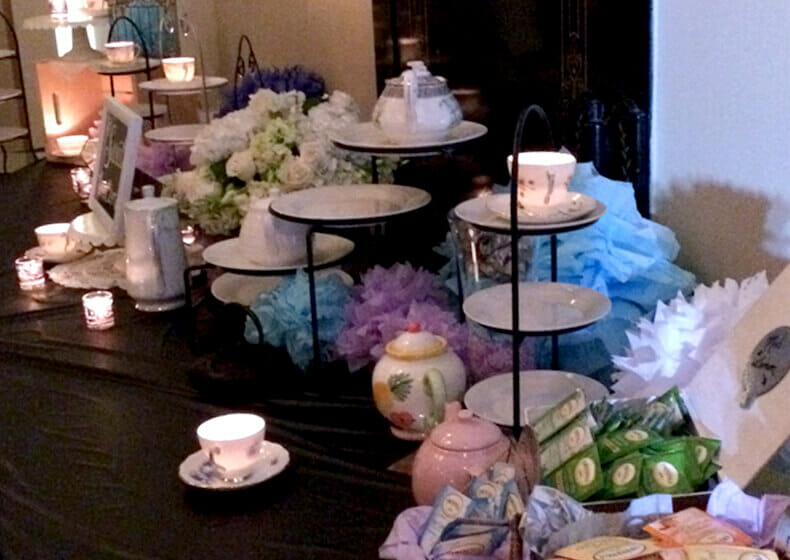 Heritage Hall on Main Street was transformed!  We did indeed walk into a Wonderland last Tuesday night.  On March 1st, the 22 very creative students of the Kwantlen Polytechnic University's 2016 Public Relations class held a fundraiser to benefit the Cause We Care Foundation.  "A Night in Wonderland" was the culmination of two semesters during which the students learned about fundraising and community contribution from start to finish, literally.  They learned about sponsorship, event planning, project management, community engagement, and then put on a real live event.  It all started for us when Andrea (our founder) spoke about CWC to the class – one of a few groups that were invited to present – and we made the final cut!  What a great project!
The slogan for the evening was "The Journey Begins" as they wanted the guests to feel like they were part of a journey larger than themselves.  And so it was:  sparkling lights everywhere, with elegant and beautifully coordinated décor ~ high top tables lit with candles and displaying framed CWC quotes, a stunning tea party sweets table complete with individual china tea cups and (my fav!!) color coordinated macaroons that matched our CWC colors –now THAT is attention to detail.  I only ate 3, I promise…..  There was an amazing auction items table, speeches, music (by Brian Miquel), poetry (by Mariah Dear), raffle draws, balloon surprises, a photo booth, great appies and even better conversations with some talented and very compassionate students (all beautifully dressed in black I might add). 
What really stands out to us is this:  it was apparent everywhere – from their social media profiles on what CWC meant to them individually, great twitter presence, big smiles and commitment to their cause – that each one of these students has a strong passion and enthusiasm for making a difference themselves, in their own community.  This is a group that inspires, and they are sincere.   WE were the ones that felt honored.   Single mothers & kids that will benefit in so many ways from this evening.   In thanks and appreciation, you guys are awesome.
---