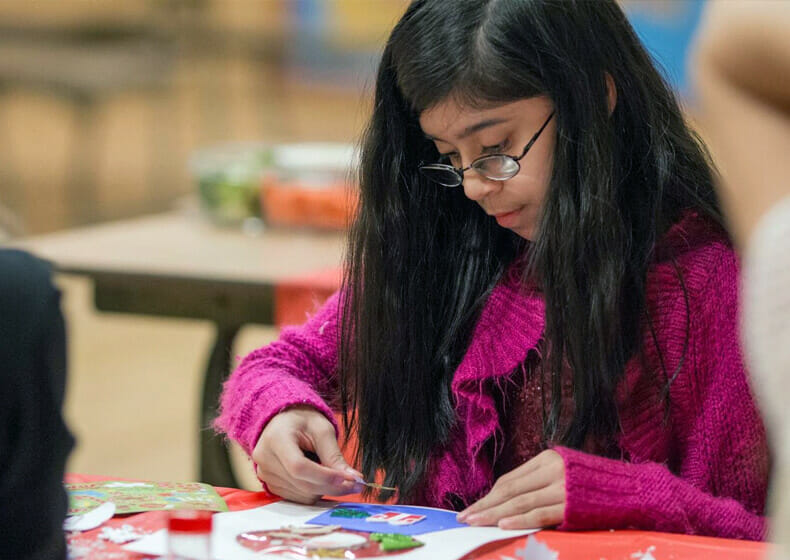 Thunderbird Elementary School Visit
The KidsFirst program at Thunderbird Elementary was the very first after school care program we funded.  When we started our research a couple of years ago, we had the pleasure of spending time with Henry, the principal at the time, and his very dedicated and caring staff – all with immense passion for the kids in the school.  This was reflected in their tireless zeal in looking for ways to get this ground roots program up and running.   This is now our fourth year supporting Thunderbird.   Between the awesome snack donation started up by Windset Farms (kids LOVE the vegies!), the involvement of some super dedicated Collingwood high school students, and the additional program ideas that the changing staff bring each year, it has been a great journey of learning and appreciation for us. 
We stopped in to meet the new programmer Rachelle and see how the kids were doing. Rachelle is new to Thunderbird, and has created a tidy and organized space for the kids after school, with a structured program to guide the kids through free time, homework and literacy within a healthy and supportive environment.   A safe place.  Some of the weekly activities include Snackademics (with their Collingwood buddies), All About You, Little Athletes, Art Attack, Kids Kitchen.  We saw the amazingly creative clay figures they had made in Art, the wild masks and the fresh kid made decorations on the walls.  One sweet girl cried when her Collingwood buddy wasn't able to come that day, which speaks volumes to the support their Collingwood buddies provide.   The program now includes Friday's as well, all the better for the kids!