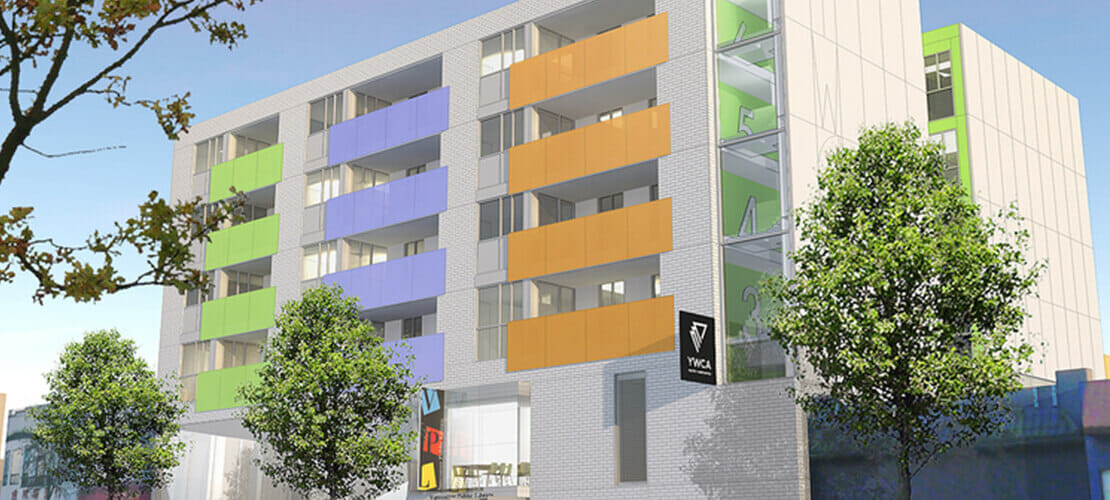 Helping Build A New Facility For Housing, Learning, And More
Cause We Care Foundation is very excited to be a part of a critically important housing project with the YWCA.
On March 22, 2011, the City of Vancouver, the Vancouver Public Library, and the Vancouver YWCA announced a joint project that would include a new, full-service public library along with 21 units of subsidized housing and over 3000 square feet of program space for single mothers and their children, operated by the YWCA. The facility opened in April 2017.
CWCF is thrilled to continue to participate in this initiative: an opportunity to make a profound, permanent impact on the Downtown East Side. The facility offers a broad range of resources for healthy, peaceful, well-rounded living – from healthcare to employment training, fun activities in the play area, and literacy and learning in the library. With its integrated approach to developing crucial life skills in a safe, nurturing environment, this multi-faceted project will change many lives for the better.
The housing component of this facility is called the YWCA Cause We Care House, as we have pledged significant funds to help build the structure. This subsidized housing facility is now open to women and children who need a safe, affordable place to call home – and provides a path towards a brighter, independent future.
Capital Campaign Donors
Thank you to all supporters of our capital campaign helping bring more safe, affordable housing to Vancouver for single mothers and their dependent children.
Premier Patron ($100,000+)

Brian & Andrea Hill
Anonymous
Face The World Foundation
Mark & Naudia Maché
Robert Sali
Aritzia LP

Champion ($50,000 – $99,999)

Canaccord Financial Inc.
Vertex One Asset Management Inc.

Contributor ($25,000 - $49,999)

Blue Ruby
Highbury Foundation
Patrick & Vandana Lecky
Tanis & David Goldman

Supporter ($10,000 -$24,999)

Andy & Georgina MacDonald
Cindy & Ryan Beedie
Williams-Sonoma/Pottery Barn

Supporter ($5,000 – $9,999)

Campbell & Kim Craig
Christopher & Niki Cumming
Kathleen & James Hill
Our Lady of the Prairies Foundation
Rob & Lisa King
Susannah Pierce
TD Securities
Friend ($1,000 - $4,999)

Nancy Hill
Monique Badun
Pacifica Family Addiction Foundation
Conam Charitable Foundation
Frank Guistra
Jane Irwin
Vancouver Foundation 
Eric Savics
Tom & Brittney Gaglardi
Geoffrey Duyker & Sara Nathansan
Stacey Horton
John & Julie Vogel
Jenny & John Newell
Jill Lyall
John Murphy & Leslie Lee
Richard & Sabine Wood
Rachel Mantel
Mike Jahnke & Karen Heiss
Tia Walsh
Gary & Liz Zlotnik
Heather Howat
Arie Merrin
SJ Sherbanuk
Mike & Margot Jagger
Vincent & Robyn Yen
David Thom & Juli Hodgson
John & Francis Lecky
Alfonzo Ergas
Chris Owen
Lorne & Raechelle Paperny
David & Jenny Pearson
Jonathan & Leanne Coleman
Lisa and John Stout
Gail Ruddy
Shannon Bosa Yacoub & Emad Yacoub
Fei Disbrow
Ross Turnbull