Holiday Care Package Drive
Cause We Care Foundation has been collecting donations and putting together Holiday Care Packages for families in need in Greater Vancouver since 2006.
An empty cupboard can be common during the holiday season for single mother-led families. Many cannot afford gifts or any of the extras that most families enjoy over the holidays, and these care packages offer both necessities and some treats and comforts to help brighten the season for these mothers and their children. We are the largest care package drive in the Lower Mainland.
Cause We Care Foundation works with local companies to secure donated or wholesale cost of items to ensure your donation makes a significant impact.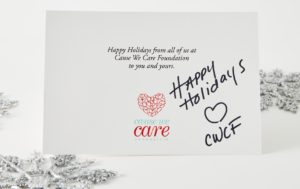 Our 2020 Care Packages include:
$100 Gift Card to Save-On-Foods
Hot chocolate mix
Box of Oreo cookies
Box of granola bars
Box of tea
Chocolate treat
Thank you to our many donors including: Capital Direct for doubling every donation, Save-On-Foods,  Aritzia, Classic Packaging, Urban Impact for their many years of continued support. Thank you to LivingSpace and Dueck on Marine for providing cargo vans for delivery of the Care Packages.
Our many volunteers over the holiday season help us deliver to the following organizations across the lower mainland:
YWCA - Alder Gardens
YWCA - Crabtree Corner
YWCA - Fraser Gardens
YWCA - Program Centre - Single Mothers Group
YWCA - Cause We Care House
Developmental Disabilities Association(DDA)
Kate Booth House & Ester's Place
North Shore Neighbourhood House
North Shore Crisis Centre (Sage & Hope)
North Shore Women's Centre
North Shore Family Services
Safe Choice Transition House
Wenda's Place Transition House
Ray-Cam Community Centre (NICCSS)
Cedar Cottage Neighborhood House
Spectrum Mother's Support Society
YWCA - Como Lake Gardens
YWCA - Crabtree Corner Housing
YWCA - Monroe House
YWCA - Pacific Spirit Terrace
YWCA - Semlin Gardens
YWCA - Single Mother Service Fraser Valley
Collingwood Neighbourhood House
Grandview Elementary
Xpey Elementary
Thunderbird Elementary
Waverley Elementarty
Britannia Secondary
Van Tech Secondary
Cunningham & Carleton Elementary
Tillicum Annex Elementary School
Hastings Elementary School
Please help us honour a single mother in need by making a donation. Or putting your name down to volunteer.